valiantCARparts.com.au
Page was last Updated: CLICK 'REFRESH'
ON YOUR BROWSER TO ENSURE LATEST PAGE


---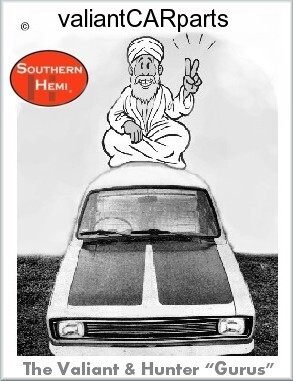 (YES! We regularly Ship to New Zealand etc)
---
Australian CHRYSLER / VALIANT PARTS etc FOR SALE!
Including enthusiast's huge lifetime Private collection


Our used and NOS parts are way better than most now, as most have been stored away unused for at least 25 to 40 years, and some even since the 1930s!


We are Arguably the Worlds most experienced Australian Chrysler Restorers & Parts people!


WE STAND OUT FOR OUR VAST EXPERIENCE & RICH HERITAGE BECAUSE ...
WE REALLY ONLY SPECIALISE IN CLASSIC VEHICLES THAT WE PERSONALLY LOVE, OWN, RESTORE, DRIVE & RESPECT OURSELVES!

OUR FAMILY PASSION HAS BEEN LIVING, BREATHING & RESTORING CHRYSLERS ETC SINCE THE 1920s!

Consistent, hands-on experience, with literally hundreds of Classic Chryslers personally owned, dismantled and restored by just Jeff alone since 1978!
​​​​​​​(3rd generation Aussie Mopar Enthusiast, Restorer & Parts specialist )

Please Choose the appropriate Web Page from the PAGE TABS on the TOP LEFT of most pages. Or try selecting a Link below:
- Late 1971-1981 Valiant Parts List


- Early 1962-1971 Valiant Parts List
- Chrysler / Hillman Hunter Parts List


- Dodge AT4-D5N Truck Parts List
...........................................................
- Dodge Phoenix Parts List (Included below on this page, just Scroll Down)
- Chrysler Centura Parts List (Included below on this page, just Scroll Down)

- Mitsubishi Galant, Sigma Parts etc (Very small number of Mitsu items from 1970s, Only what is listed)
Many other parts also available (Apart from Mitsubishi Galant etc) but still havenít been listed at this stage as much is still stored away in boxes awaiting stocktaking, so feel free to just ask...
(Collecting 1962 to 1981 Australian Chrysler Spares since 1978)
Updated here as an exhaustive stocktake is undertaken in continual stages as we get time so... CHECK BACK REGULARLY TO VIEW THE LATEST UPDATES!



< Click on this "envelope" to tell a friend about this site!

HOW TO ORDER:
Best to EMAIL US your list of Chrysler/Valiant/Dodge Parts wanted, and include your exact vehicle Model, Year, Engine size, Transmission type etc in the Heading. Then we will have a look for you, and will email you back with full details once we have sorted your parts.
(Provide your Delivery address including Suburb, Post code and State for a Total)
CONTACT: valCARparts@southernhemimedia.com
24/7
Or Ph: 0431 183 886 (B

etween 11:00 am to 6:00 pm Sydney time, most days)
(You will get a much better response VIA EMAIL for parts enquiries)
---
DODGE PHOENIX PARTS
. V8 Torque Flite Auto Transmission TORQUE CONVERTER 904 727 -Chrysler Valiant Dodge Phoenix

Genuine Used Chrysler TORQUE CONVERTERS with good useable starter ring gears- To suit 727 and 904 Chrysler Dodge Torque Flite Automatic Transmissions. 1968-1981 DE DF DG Dodge Phoenix 318 383, Plymouth Fury, VE VF VG VH VJ VK CL CM CJ CK Chrysler Valiant 273 318 383 400 440 LA B RB Big Block, Small block.
MOST take the common 10 tooth V8 Chrysler starter motors. Currently greatly reduced in price for a limited time as we could use the extra shelf space.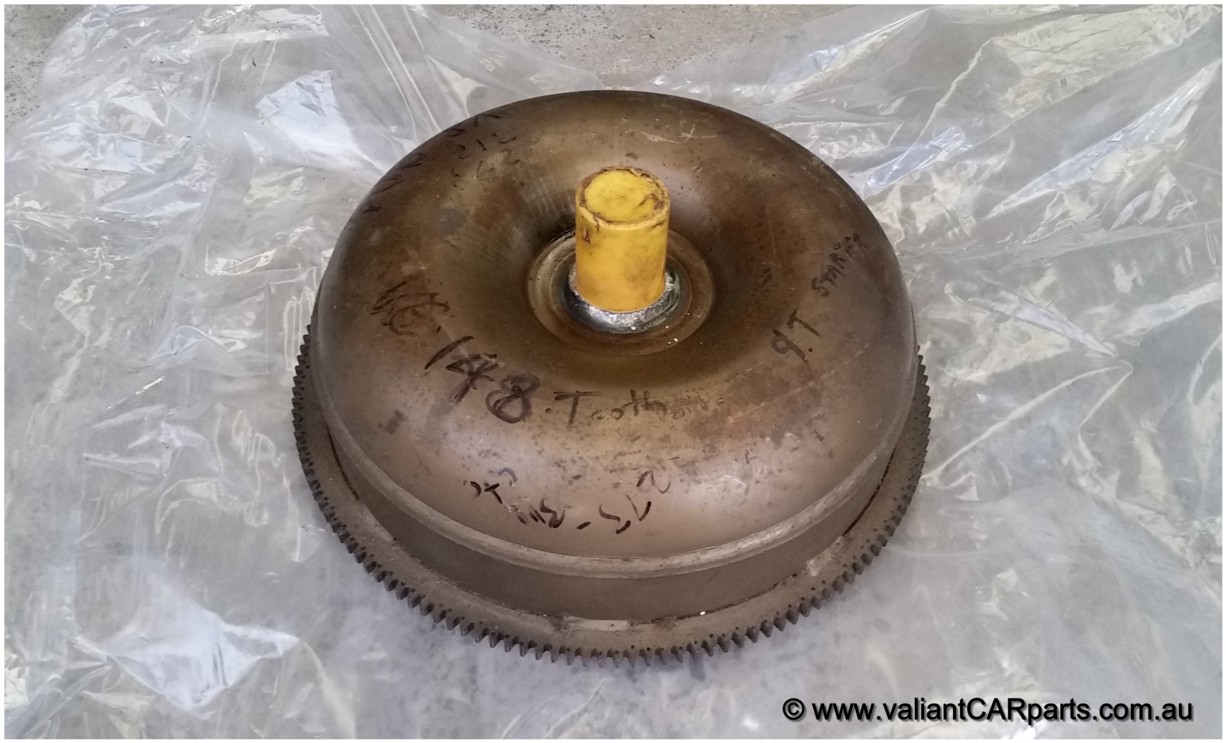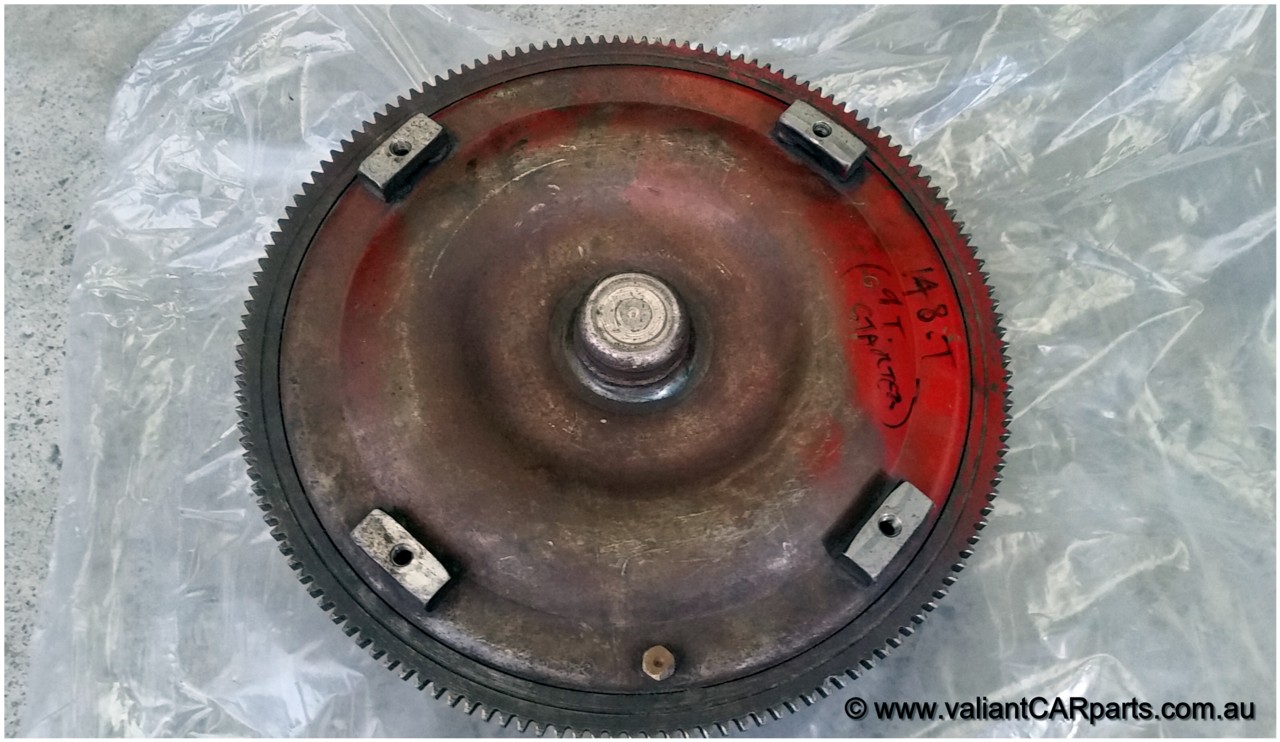 ∑ NOS Australian Dodge Phoenix 1968 DC etc - Glove Box LOCK with keys. One only! $125.00


. Rare 1965-1966 Dodge Phoenix /AP2D, DB Head Lights and headlight buckets, and full Front and Rear SIDE/door GLASS SET. Very nice / Excellent condition for age. Only $149.00 the lot! Grab it all for spares so you don't get caught out later as very rare!



. Rare 1967 1968 1969 DC, DD Dodge Phoenix/Plymouth Fury Rear SIDE QUARTER BODY MOULDING strip. $49.00 Excellent Condition for age.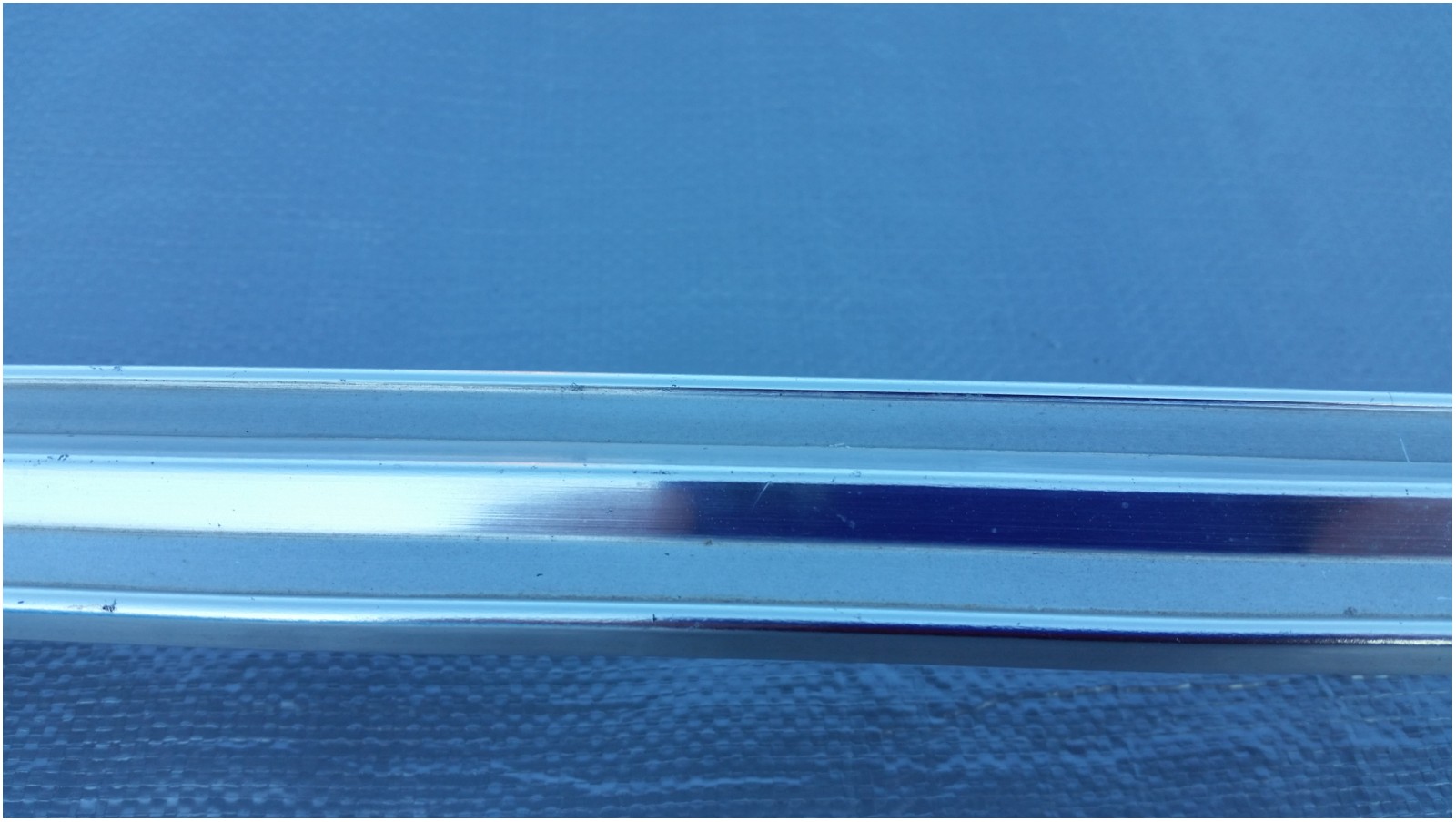 . NEW Hi-Torque/Light weight gear reduction STARTER MOTOR 10 Tooth gear suit V8 and some sixes. $349.00 These high quality/performance starters suit most Chrysler and Dodge V8 LA Small Blocks 1965-1987 including some Australian Valiant V8 with 10T starter, and Dodge Phoenix B, RB wedge Big Blocks 383 400 413 426 440 etc. 10 tooth gear drive, for Manual gearboxes and Torque-flite 904 and 727 auto transmissions when ring gear has 130 or 122 teeth. Great if you have a small amount of room to fit starter motor with headers etc. More power but smaller size than a factory starter and lighter.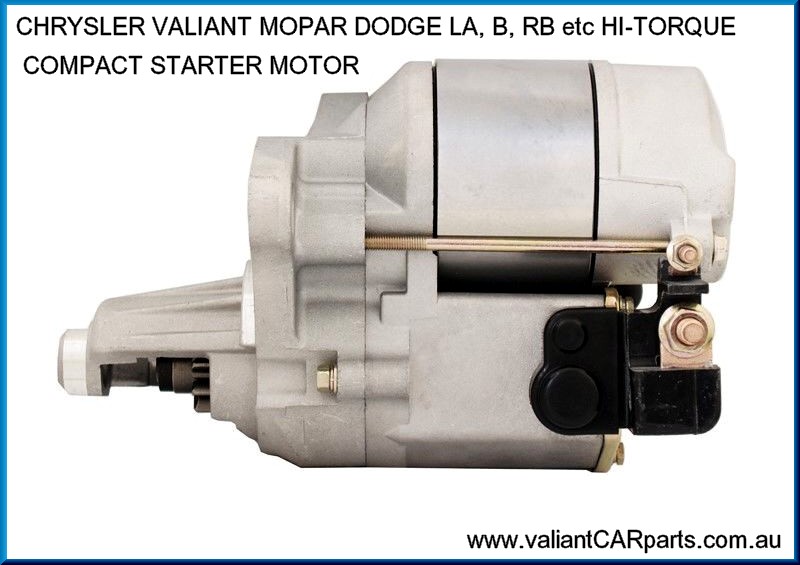 ---
Chrysler CENTURA PARTS
BODY SEALS
∑ NEW Chrysler Centura DOOR BELT WINDOW SEALS
. (Ask about other Seals as required)


---
Classic CHRYSLER VEHICLES FOR SALE too!
Select the 'CHRYSLERS FOR SALE' page TAB ON TOP LEFT for details
---

# MANY other parts also available (Except Mitsubishi) but most still havenít been listed at this stage, so feel free to just Email us and ask
Check back regularly at www.valiantcarparts.com.au
for the latest updates!
- N.O.S. stands for New (Obsolete Stock) Genuine Chrysler unless noted otherwise
#All previous dated versions of this parts list are now obsolete
....................................................................................................................................................................................
Please note that this is the total of all I have in Mitsubishi parts below

. NOS screw in Ball joints, highest quality GKN brand, pn: QRJ-520 Possibly suit 1977 to 1980 GH Sigma and 1974 to 1980 Lancer? (Similar to top Valiant ones but smaller diameter) Please email me if you know for sure what these fit. $69.00 the pair

Note: For all the other classic Mitsu parts BELOW: Will do the whole lot for ONLY $259.00
GALANT parts
∑ NOS Galant GD COVER-door handle inner R/H $5.00
∑ NOS Galant GD COVER-door handle inner L/H $5.00
∑ NOS Galant GD Headlight switch $55.00

(Or just $59.00 the lot)

SIGMA parts
∑ NOS Sigma GH Switch, Heater $55.00
∑ NOS Sigma Carburettor idle mixture screw, Part no. MD606566 $9.00
∑ NOS GJ Sigma sedan front mudguard/fender L/H lower rust repair section $39.00
∑ NOS Early MAGNA/Late Sigma Roof racks $69.00
. Used, very good GH Sigma Operators Manual $19.00
. Used, very good GJ Scorpion Operators Manual $19.00
(Or just $130.00 the lot)
L-300 Star wagon and other assorted parts
∑ NOS Fusible Link L-300 SB (and other Chryslers) $14.00
∑ NOS Lever-Air out-R L-300 SB Part No.MB065333 $4.50 each (2 available)
∑ NOS Stopper-open L-300 SB Part No. MB134460 $9.00
∑ NOS Cap L/H interior L-300 SB Part No. MB198427 $2.00
(Or just $25.00 the lot)
Note:
For all Mitsu parts above: Willing to do the whole lot for ONLY $259.00
FREIGHT / POSTAGE:
Valiant Parts location: Gosford shire, Central Coast NSW 2260 Australia (Between Sydney & Newcastle)




---
See below for:

-POSTAGE / FREIGHT DETAILS

-PAYMENT DETAILS

-KEY

-ABOUT US

-CONTACT DETAILS






---

-POSTAGE / FREIGHT DETAILS

Most parts POSTED Australia-Wide and to New Zealand! Including: Queensland, Victoria, South Australia, Western Australia, Canberra etc



-Please PROVIDE at least YOUR SUBURB, STATE AND POST CODE and if you require Registered Post and any extra cover so I can get back to you with your Total and payment details before you pay.
-Larger parts can be picked up or you arrange FREIGHT

Smart Send Calculator


(Click on these links above for two good on-line couriers that specialise in good value, one off jobs etc)


---
-PAYMENT DETAILS:

Preferred PAYMENT METHOD: within Australia for Parts is Westpac Bank Deposit at a Branch or On-line.
---
-KEY: General parts condition descriptions are ...

-Rough

-Fair

-Good

-Very good

-Excellent

-New

-NOS

. NOS stands for New (Obsolete/Old Stock) Genuine Chrysler unless noted otherwise
. Assy means assembly


---
ABOUT US: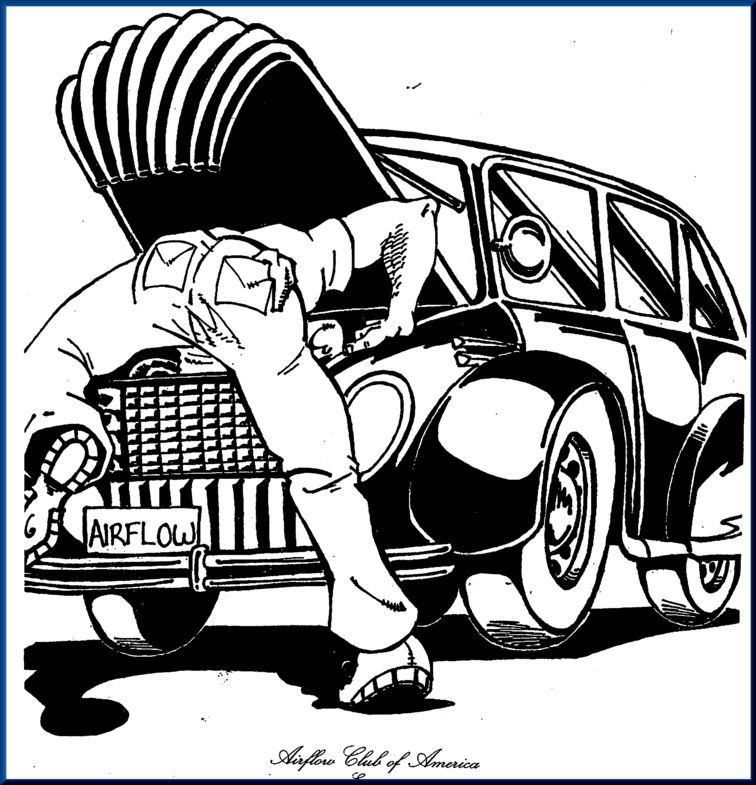 ....................................................................................
WE STAND OUT FOR OUR VAST EXPERIENCE & RICH HERITAGE BECAUSE ...
WE REALLY ONLY SPECIALISE IN CLASSIC VEHICLES THAT WE PERSONALLY LOVE, OWN, RESTORE, DRIVE & RESPECT OURSELVES! OUR FAMILY PASSION HAS BEEN LIVING, BREATHING & RESTORING CHRYSLERS ETC FOR 90 YEARS!

SINCE 1978 we have worked hard doing the right thing, and earned a reputation (And our family since the 1920's!) as some of the most honest people to deal with in the Classic/Vintage Vehicle scene and we highly value our fellow enthusiast Customers! So please be assured that we always pack items very carefully, and we always personally inspect all items carefully BEFORE dispatch to ensure a quality service.

"WE HAVE A RARE & UNIQUE all-round COMBINATION OF EXPERIENCE" that is perfectly suited to this very niche/ specialised area" as we are are also expertly trained & experienced in Packing, vehicle restoration, car detailing, complete vehicle dismantling & rebuilding, Sheetmetal work, TV/media camera & sound work video editing etc. Fully qualified & certified in Engineering/Metal Fabrication/Welding,
And we are even professionally trained & certified in Computer I.T. to improve your experience and security!

(And no, it didn't come easy, & was a lot of hard work!) :)

....................................................................

We are the Andersen family. Jeff Andersen is a 3rd generation Chrysler restorer, from a 90 year family tradition. Ex- Founding member and President (and at one time vice president) of the original and very popular NSW 'Central Coast Valiant / Chrysler Club' that thrived in the late 80's and 90's.
WE ARE ARUABLY THE WORLDS MOST all-round EXPERIENCED AUSTRALIAN CHRYSLER RESTORERS & PARTS PEOPLE after Jeff alone dedicating many decades of continuous non-profit non-stop years to the preservation of our classic Aussie Chryslers since 1978, personally owning nearly 300 Mopars, personally restoring at least 150, many to exacting original specs from the ground up, and in the 1980's and 90's personally dismantling many rougher donor cars to save the good ones, while parts collecting all along and often modifying and racing & spending many tens of thousands of dollars of our own money producing Australia & NZs premium range of Chrysler DVDs that were sorely missing in the Aussie Chrysler scene up to that stage to support the hobby & fellow enthusiasts.
As anyone who remembers Jeff's car crazy father, and Australia's leading REO vehicle expert and big Chrysler Airflow collector (maybe from the Chrysler Restorers Club or from all around Australia) over many decades etc will know... it runs in the family! (Old Peter is still at it by the way)
Jeff's Uncle Graham modified and raced Plymouths in the 1950's and 60's and many relatives on botrh sides were Chrysler enthusiasts, owners, racers and technicians going way back to the 1920's. Jeff's grandfather Mervyn was one of the most respected, top mechanics in Sydney many years ago and regularly worked on Chrysler fleets including Police pursuit Chryslers. While his other Grandfather Hue was also a skilled Sheet Metal Engineer. (Jeff is also originally a fully qualified Engineer by trade)
Jeff's wife Rebecca is a keen Chrysler enthusiast too, and has over 25 years hands-on experience rebuilding and repairing Valiants herself, and starred as the team mechanic for the all-girl Aussie team in the world-wide TV show and Foxtel/Discovery channel series 'Full Metal Challenge' http://en.wikipedia.org/wiki/Full_Metal_Challenge
Jeff helped Rebecca build the car 'Deflector' from scratch here in Australia and filmed some of the Aussie footage including the build diary and then it was shipped over to the UK where just the girls joined 'Deflector' for the Wild Games!
Well... we're out of room, & wish to re-claim our garage & shed space, so the time has finally come..." We are having a big Valiant Parts clean-up SALE!"
....................................................................................................................



1934 Chrysler AIRFLOW- 'Straight 8' engine
(The same as some of Jeff's and Father Peter's cars)

A revolutionary automobile, way ahead of it's time! Bonneville Land speed record winner etc, and...
The first mass produced Wind Tunnel tested car!




---

- CONTACT DETAILS:

Or Ph: 0431 183 886 (B

etween 11:00 am to 6:00 pm Sydney time, most days)